About Beyond Beaches, Literary Cats, and Me

You probably want to know who is behind the information you find on this website and why I am writing BeyondBeaches.com. And, most likely, you question if the information you find here is worth your while to read. Will it be helpful, useful, or enjoyable? 
The short answer is…
If you like to read books and like to find interesting places to go, and if you tend to be curious about most everything, then our pages might delight you. Or at least tickle your curiosity, inspire a trip, or lead you to a good book to read. 

On the pages of Beyond Beaches, you'll find a little information about a lot of books. And you'll learn about quite a few nearby places (near Gulf beaches) where many famous (or not) stories have been set (in fact and in fiction).
The website lets us combine our curiosity with our passions for reading and travel. 
We think it's a fun way for visitors to learn about novel places to go while on a Gulf Coast beach vacation. And if you're a reader lucky enough to live near a beach, our pages might spark your curiosity to explore more places around you and to find more books to read, on and beyond beaches.
Some of our pages do mention beach places to go for fun, food, and entertainment. And beaches do make great places to read a book or take a vacation. But we know that no one needs instructions for how to enjoy a day on the beach. 
The pages on BeyondBeaches.com tell of literary stories and books with settings in places you may want to visit (or not) while you're in the Gulf area. Whether you stay on a beach to play or read, or go explore beyond is your choice. 
Who Are We?

"We" are me (Susan), two official Literary Cats, and a whole lot of friends, neighbors, and strangers who generously help by sharing stories on a great variety of topics and experiences. Such help allows our website to expand beyond the limited content I alone can offer (which makes the site much more interesting for all of us). 
To be honest, I am just someone who has been living a beach-vacation-kind-of-life for a few years near the Alabama beaches. I have had time to wonder and wander and observe, all while exploring places near our beaches. Naturally, I have gathered quite a few facts that I can share about things to do and places to visit along the upper Gulf Coast, especially in lower Alabama (near the beaches). 
However, such facts are a tiny part of what you will find on a Beyond Beaches page.
I write BeyondBeaches.com to have fun. Being a person who is always curious, I enjoy reading and learning about the stories, authors and literary settings, many of which happen to be associated with the American southeastern states along the Gulf Coast. 
Hence, our focal point on Gulf beaches: the anchor that holds the site steady, and which conveniently lets us suggest places for you to vacation (if you don't already live in paradise).
Along with reading and learning, I enjoy traveling. And I've been attracted to faraway places more than once by books I have read. What a delight to make such a journey!
I enjoy finding connections between literary settings and places I would like to visit.  I think you will, also. 
About the Literary Cats

Now, Literary Cats are whole other story.
Tennyson and Eliot.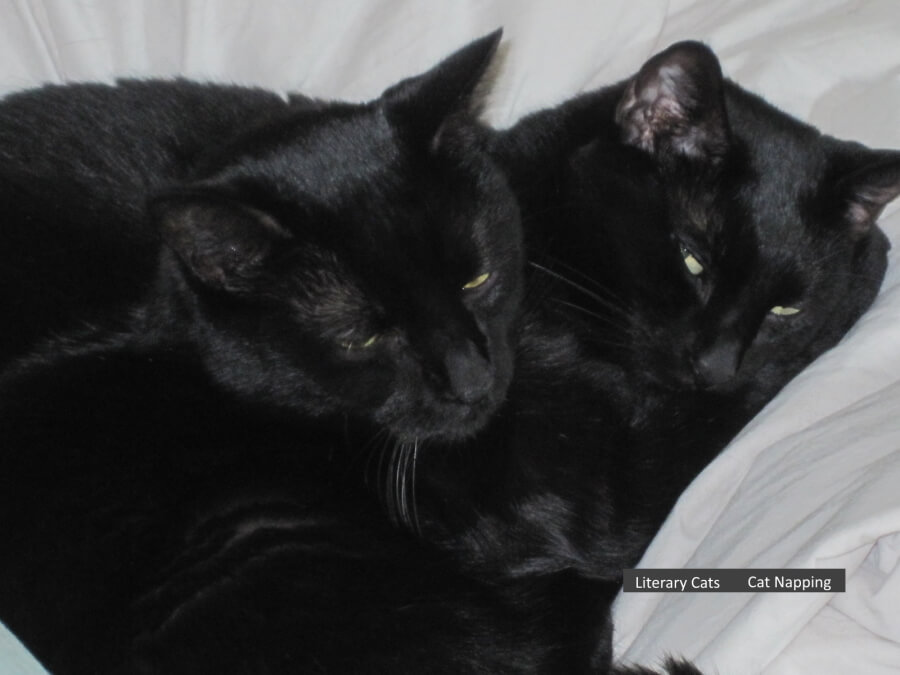 Don't move. She's taking our picture again!
Twin cat brothers from an "oops" litter. Half Siamese and half Who-knows. But totally handsome, loving, and loyal.
Our friends (and probably most strangers) have trouble telling them apart. But each is really quite different. Lovely little kitties now all grown up. They will forever be dear to my heart.

On BeyondBeaches.com the Literary Cats suggest books you might like to read—and not only cat books. However, both Literary Cats would prefer that you read only books about cats. 
Literary Cat ABCs
Always
Be
Curious
They are much too curious to limit their own reading to only one genre. Though Eliot does tend to prefer mystery books and Mark Twain (at least today). And Tennyson leans toward histories and adventure thrillers (usually).
But neither Literary Cat stays in any one literary box for long. 
In fact, we never know what book these Literary Cats will drag home next, but are often happily surprised upon opening the cover. 
What we do know is that keeping all these books categorized is as difficult as keeping a Literary Cat's attention. But we keep trying.
Be sure to watch Beyond Beach pages for book-filled Literary Cat(egory) Boxes. We hope you'll enjoy lots of good books to read.
Whether you visit a literary setting is your choice. But make a cat happy, and let us know if you do.
Oh! Beware of pages where one, or the other, Literary Cat offers criticisms and comments on books, authors, settings or styles, as if he has actually read the book! 
(Yes. We have both Literary Cats literarily licensed.)